Common Denominators for a Great Website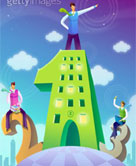 1. Be Informative and Interactive
People come to websites for information, not just a marketing pitch. We will make sure your content is informative, as well as providing internal hyperlinks and navigational paths to help people get around.

2. Maintain Content
Most printed material is linear – it goes from point A to point B. If we skip around in a brochure, it's easy to get back on track. Most Web content is set up on different levels, so it's easy to get lost. We'll provide navigation bars, toolbars, frames, etc. to give users a way to keep their bearings. In other words, we'll keep some of it "linear."

3. Electrify Your Content!
Our content developer can set up your content so it works on the many levels of your site. We'll turn it into bite-size chunks and create hyperlinks to let visitors "drill down" to the specific data they want. Remember that just because it is possible to put all of your company's 75,000 products and their specifications on the Web doesn't mean you should.

4. Keep Images Lean
We aim to keep your file sizes small and efficient to download. That means using simple illustrative techniques rather than full-color photos when possible. Flat colors look good on the screen even when the file size is reduced to the preferred 16 or 32 colors. Photographs require more colors – and bandwidth – to display well.
5. Shrink Your File Size
If your target market uses a relatively slow connection, we'll try to keep page sizes under 15K – particularly on pages that users will visit often while navigating your site. That means being thrifty with images.